David Bowers, Graduate Assistant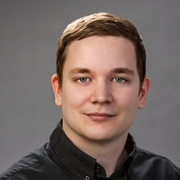 David Bowers, Graduate Assistant
David Bowers comes to CMP from Ohio State University with a master's in Mathematics. He has a longstanding love of both mathematics and education.
David worked as a high school math teacher in Columbus City Schools for several years before deciding to pursue an advanced degree. He earned a Master's degree in math and has now found himself a home here at MSU as a Doctoral student.
In his spare time, David loves hiking and cooking with his wife.