Glenda Lappan, Author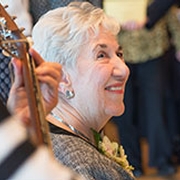 Glenda Lappan, Author
Glenda joined MSU as an assistant mathematics professor in 1965. After teaching mathematics and mathematics education for 10 years, she turned her attention to mathematics curriculum research.
With her colleagues, Lappan developed the Connected Mathematics Project (CMP). Glenda's research and development interests are in the connected areas of students' learning of mathematics and mathematics teacher professional growth and change at the middle and secondary levels.
Glenda retired in the Spring of 2014, and now spends her time with her family.