Merve Nur Kursav, Graduate Assistant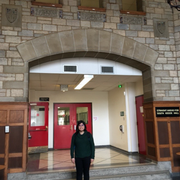 Merve Nur Kursav , Graduate Assistant
Merve comes to CMP from the University of Georgia where she received her M.A as a Fulbright Scholar.
Her research interests are centered around investigating the role of innovative methods in teaching, learning, students' thinking, and enhancement and development of curriculum materials.
In her spare time, Merve enjoys traveling, going to live music, and writing poems.
CMP Staff in the Spotlight: Merve Nur Kursa, 2017