AJ Edson to Receive 2017 AMTE National Technology Leadership Initiative Award
Release Date: Dec 19, 2016
Tags: staff, news, spotlight, Elizabeth Lozen, Bilie Lozen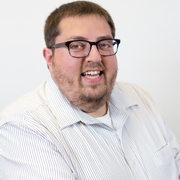 Release Date: January 19, 2017
AMTE awarded AJ Edson the 2017 National Leadership Technology Initiative (NTLI) Award as a co-author for the paper, A Framework for Mathematics Teachers' Evaluation of Digital Instructional Materials: Integrating Mathematics Teaching Practices with Technology Use in K-8 Classrooms.
Awardees will receive $1200 from Texas Instruments to be used towards travel to the SITE Conference where they will present their paper. The paper will also be recommended for publication in the CITE journal.
Congratulations, AJ!
More details are available on the AMTE website.