CMP Celebrates a Successful 2015 Users' Conference
Release Date: Mar 2, 2015
Tags: Conference, Users'
Release Date: March 2, 2015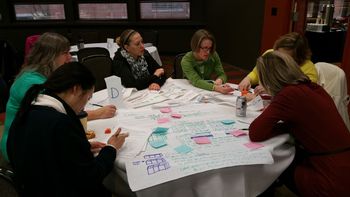 This year's annual CMP Users' Conference was possibly one of the best so far. A range of participants attended from all over the country, engaging in thought provoking and insightful conversations around mathematics teaching, learning, and assessing for all CMP classes. Their positive energy and professionalism was a key part of why this conference was so special.
Margaret (Peg) Smith kicked off the event with her keynote talk, Mathematics Teaching Practices that Support Mathematics Learning for All Students. From there, participants joined various breakout sessions. Presenters included CMP co-author, Susan Friel; Cynthia Callard; Jennifer Kruger; Jenny Jorgensen; Geraldine Devine; Shawn Towle; Anne Marie Nicoll Turner; Teri Keusch; Mary Beth Schmitt; Matt Kochanny; Karrie Tufts; Jim Mamer; Rob Reynolds; Callie Heck; CMP co-author Elizabeth Phillips; Katie Lantz; Holly DeRosia; Mary Bouck; Melanie Del Grosso; Kay Neus; Kellie Huhn; and Jamie Wernet . The conference was closed by Yvonne Grant's keynote Orchestrating Productive Mathematical Discussions Using the 5 Practices: A Simulation.
Participants had a "sneak peak" into the 25 Years of CMP celebration with a photograph slideshow at lunch that displayed the many memories captured over the years. This followed the recent project launch History of CMP website.
A special thank you goes out to those who participated.
Coming up in June are the week long Getting to Know CMP Workshops and Leadership Workshops. The dates have also been set for the 2016 Users' Conference, February 19 to 20, 2016.