CMP Graduate Students Present Their Research at CREATE Mini-Conference
Release Date: Mar 1, 2016
Release Date: March 1, 2016
The 4th annual CREATE for STEM Mini-Conference was held on Friday, February 26, 2016. CMP Graduate Students attended this event and created posters to display their research on The Arc of Learning and A Framework for Formative Assessment. The purpose of the conference is to fuel discussions about efforts to improve K-16 teaching and learning of STEM; allow researchers and collaborator to share challenges and generate new ideas; and to accelerate interdisciplinary collaborations.
The Arc of Learning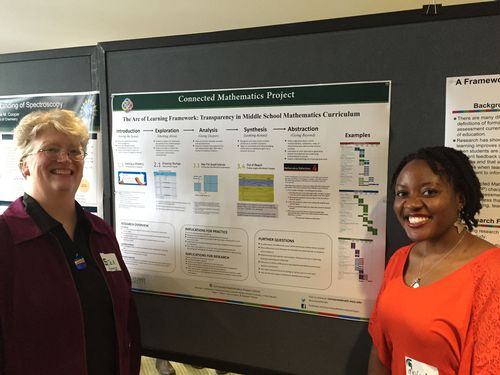 Authors: Funda Gonulates, Jennifer L. Nimtz, Molade Osibodu, AJ Edson, Yvonne Grant, and Elizabeth Phillips
The Arc of Learning is a framework for describing the development of mathematics understanding provided by a sequence of problem-solving tasks. This framework helps move attention in mathematics education beyond the analyses of an individual problem to consider its role for promoting mathematical learning within a sequence of problems. This poster details the research and use of the Arc of Learning framework in problem-based mathematics curriculum materials.
A Framework for Formative Assessment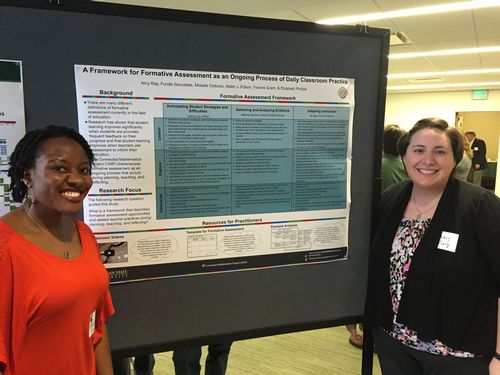 Authors: Amy Ray, Funda Gonulates, Molade Osibodu, AJ Edson, Yvonne Grant, and Elizabeth Phillips
Extensive research evidence suggests student learning improves significantly when students are frequently provided feedback on their progress and when teachers use assessment as an integral component of their planning, teaching, and reflecting process. Informed by research and practice, this poster details a framework for formative assessment that describes classroom practices to support teachers in anticipating student strategies and solutions, gathering and analyzing evidence, and adapting instruction.
For more information, please visit the CREATE Mini-Conference website.