CMP Staff in the Spotlight: Billie Lozen
Release Date: Mar 6, 2015
Tags: staff, news, spotlight, Elizabeth Lozen, Bilie Lozen
Release Date: March 6, 2015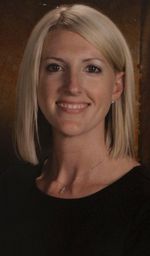 As a middle school student in Portland, Michigan, I was one of many students engaging in the CMP pilot during the early 90's. Since my days as CMP student, I have constantly been driven by the philosophies of the curriculum. CMP was my first exposure to mathematics instruction that truly helped me understand the "why" of all of those algorithms and "tricks" - to the point that it sparked my desire to relay that understanding to others.
Professionally, teaching 8th grade CMP in Eaton Rapids, MI (Go Hounds!) was truly a dream. Supporting the implementation of CMP school-wide as a middle school principal was another invigorating experience.
Following the birth of my second child in August 2014, I planned an extended maternity leave (or maturity leave, as some said) in order to focus on family. During this time, CMP's need to fulfill the hole left by Judith Miller's retirement was brought to my attention – and the rest is history. I am thrilled to be back at MSU and the project and look forward to giving back!
On a daily basis, I miss making a direct, positive impact on student lives. The school IS where the magic happens, where the relationships are formed, and where kids become inspired to be all they can be. I look forward to supporting CMP teachers as they face a difficult educational landscape.
On a personal level, I'm constantly in awe of my husband, Adam. He is a firefighter and paramedic in Westland, MI where he earned the honor of Firefighter of the Year in 2011! In our spare time, our hobbies include diapering, potty training, bathing, feeding, chasing, snuggling, and catering to our two adorable urchins, Julian (2) and Wyndsor (6 months).
Thank you all for a warm welcome!