CMP Staff in the Spotlight: David Bowers
Release Date: Aug 30, 2016
Tags: staff, news, spotlight, Elizabeth Lozen, Bilie Lozen
Release Date: August 30, 2016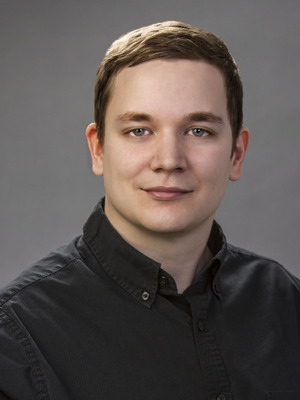 Like all who have gotten involved in CMP, I have a longstanding love of both mathematics and education. I grew up in small rural towns in West Virginia and Ohio, but went on to attend college at The Ohio State University. I then worked as a high school math teacher in the huge urban district that is Columbus City Schools for several years before deciding to pursue an advanced degree. I returned to OSU to explore research options, teaching college mathematics as I earned a Master's degree in math. Now I've found a home for myself at MSU as a Doctoral student! Many people find my shift from OSU to MSU curious considering Ohio State's deeply felt rivalry with Michigan as a whole, but I have nothing but good things to say about Michigan. I have experienced only kindness and hospitality during my time here!
I live with my wife, our sizable 140 lb dog, and my wife's four cats (I love them, but take no credit for the fact that we have FOUR of them). We are also expecting a new family member in just a few weeks...
In our free time, we love hiking and cooking. We both used to be competitive swimmers, but now we mostly swim for fun and exercise. We both spent several years coaching swimming to stay involved in the sport but someday, time permitting, perhaps we will re-indulge in actually competing!