CMP Staff in the Spotlight: Glenda Lappan
Release Date: Dec 19, 2014
Tags: staff, news, spotlight, Glena, Lappan
Release Date: December 19, 2014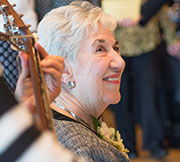 Glenda Lappan joined MSU as an assistant mathematics professor in 1965. After teaching mathematics and mathematics education for 10 years, she turned her attention to mathematics curriculum research.
With colleagues Elizabeth Phillips, Jim Fey, Susan Friel and the late William Fitzgerald, Lappan developed the Connected Mathematics Project (CMP), a curriculum now used by approximately 30 percent of all middle schools in the United States. The third edition of the curriculum - CMP3 - was published in fall 2013.
Glenda's research and development interests are in the connected areas of students' learning of mathematics and mathematics teacher professional growth and change at the middle and secondary levels.
Glenda retired in the Spring of 2014 and now spends time with her family and traveling.