NSF Grant Awarded to CMP for Collaborative Digital Teacher Environment
Release Date: Aug 24, 2020
Release Date: August 24, 2020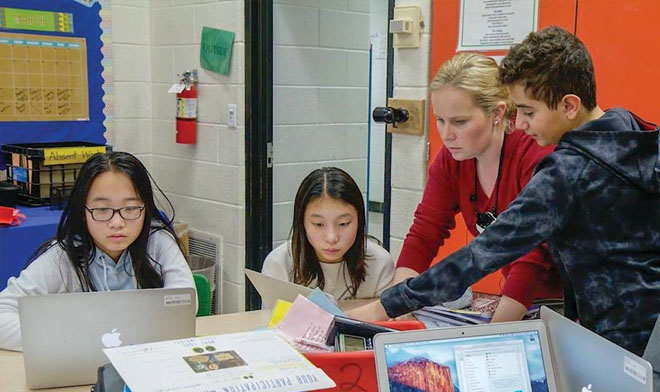 The National Science Foundation (NSF) has awarded approximately $2 million to the Connected Mathematics Project (CMP) at Michigan State University. The grant, "Enhancing the Teacher-Curriculum Relationship in Problem-Based Mathematics Classrooms by Connecting Teacher and Student Digital Collaborative Environments" will create a collaborative digital environment for middle school mathematics teachers to promote effective planning, implementation, assessment, and reflections.
This digital teacher environment will link to an existing student digital collaborative environment. The existing digital student environment embeds the CMP curriculum materials. It provides new ways for how students explore complex mathematics tasks, represent their thinking using a variety of tools, share and access work to/from each other in real time, and curate their work across individual tasks in a customized learning log. The digital student environment, which is also funded by two NSF grants, has recently been featured in two video showcases:
2019 STEM Video Showcase
2020 STEM Video Showcase
The goal of the design-research project is to design and develop a digital teacher collaborative platform so networks of teachers can create, use, and share teaching resources for planning, enactment, and reflection on student thinking. The project will include middle school teachers in the design process. Because the teacher platform is linked to the student platform, teachers can examine student work and related classroom artifacts. The new environment will allow that work to be shared with other teachers in a professional learning network within and across buildings and districts. The research team will study how teachers in networks access, generate, use, and share the online resources embedded in the new platform
Principal Investigators for this grant are Elizabeth Phillips, AJ Edson, & Kristen Bieda at Michigan State University, and Chad Dorsey & Nathan Kimball at Concord Consortium.
More details pertaining to this grant are available on the NSF website.