CMP Staff in the Spotlight: Shayna Evans
Release Date: Jan 16, 2015
Tags: staff, news, spotlight, Shayna, Evans
Release Date: January 16, 2015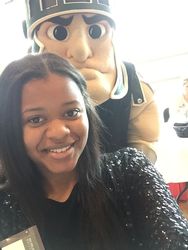 Shayna Evans joined the CMP team in September 2014. She is a freshman at Michigan State University studying Applied Engineering Sciences (AES) with a concentration in Supply Chain Management. Her career goal is to become a CEO of her own Engineering firm.
She enjoys playing volleyball, dancing, attending Spartan football games, traveling, helping and inspiring others. Shayna absolutly LOVES math and solving complex problems.
One fun fact about Shayna is that she's the President of her dormitory's hall government.